Students of all ages can benefit from learning Arabic. While you may not have Arabic tutors in your hometown, you have the internet at your disposal. Online, you can find an Arabic tutor who can help you achieve your educational goals for you or your child.
But it can be overwhelming at first as you begin your search. You may have trouble knowing where to find an Arabic tutor that suits your exact needs. To find one, you need to understand the best practices for:
Knowing how to choose an Arabic tutor
Knowing how to locate an Arabic tutor
If you can learn these two skills, then your search will be a success. Learn more about what makes a good Arabic tutor and how to find the right one for you or your child.
What to Look for in an Arabic Tutor
When it comes to your education, you deserve an Arabic tutor who will help you reach your goals. So, you should look a bit further than the first tutor you come across during your search. While you may end up choosing that particular tutor, there are many other options out there you should research before coming to a final decision. The last thing you want to do is start your tutoring program only to realize you made the wrong choice.
Doing your research beforehand will help you make a confident decision when choosing an Arabic tutor. And with that confidence, you can feel better about the time, money and effort you'll be investing. This can ultimately help you perform better during the education process.
Here's what to look for in an Arabic tutor as you begin your search.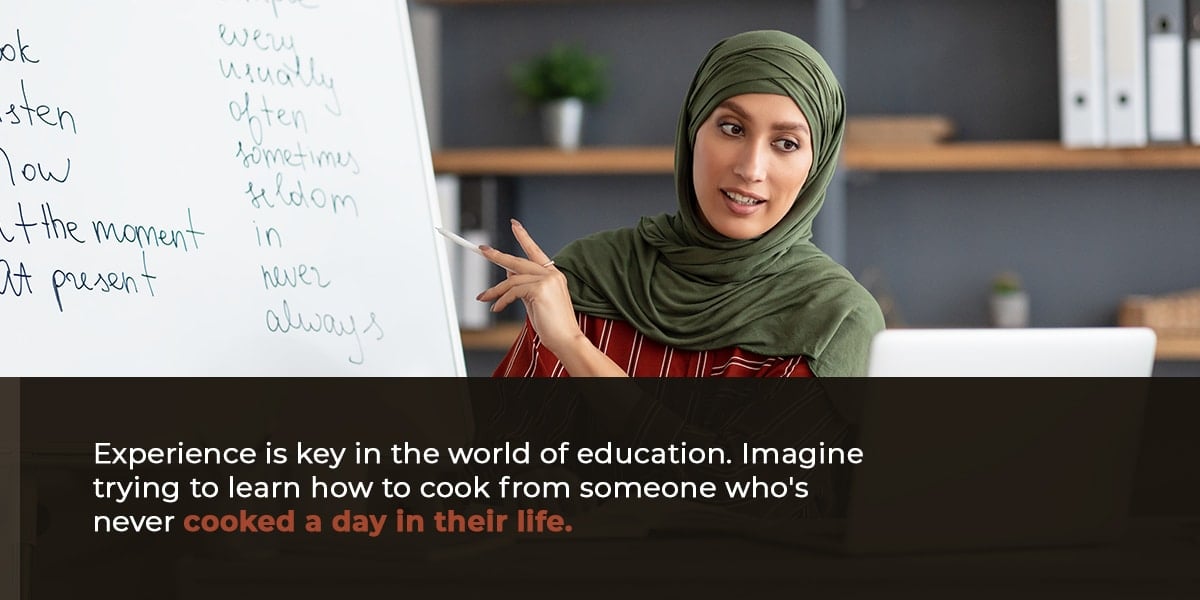 1. Level of Experience
Experience is key in the world of education. Imagine trying to learn how to cook from someone who's never cooked a day in their life. Or, picture how difficult it would be to learn math from a mathematician who has never taught a single class in their life. In both instances, you could find yourself feeling frustrated and unable to learn new skills.
A tutor with the right level of experience will give you a much better service. A quality Arabic tutor should have plenty of experience in the following ways:
Experience in Arabic: The tutor should have plenty of experience in the Arabic language, both written and verbal. In an ideal situation, your tutor will teach lessons that are several levels lower than their maximum abilities. This ensures they're teaching content they're well-versed in. A confident tutor is often a good tutor to have.
Experience in the tutoring field: The best tutors know more than just the content. They know how to present the information confidently and clearly. In short, the best tutors know how to teach. Look for an Arabic tutor with several years of experience to their name.
If the tutor is lacking in one of these areas of experience, you could risk receiving a lackluster education. When a tutor knows their content and knows how to present it in a way you can understand, you've found an excellent tutor. Look for information like their level of fluency and years of experience as a teacher or tutor.
2. Responsiveness
Responsiveness is also key in finding a good Arabic tutor. When a tutor is responsive, it means they are quick to answer your communications both during and outside of sessions. You can tell if a tutor is responsive from the first time you reach out to them for more information.
If you contact a potential tutor asking to learn more about them and their services, you should expect a response within a couple of days. Any longer, and the tutor might not be a responsive person. When it comes to your education or your child's, you want to be able to stay in close contact with your tutor. Having to wait days for a response can be the difference between grasping the material or heading into your next session with more questions than confidence.
Tutors also display an element of responsiveness during lessons. Most tutors will have their lessons planned before the session begins, but they should also have the flexibility to acknowledge and answer questions from their students. This is especially crucial in settings where multiple students are participating in the same lesson. In-class responsiveness is easier when you or your child are the only students in the session, but the tutor should be ready to respond to questions either way.
When looking for a tutor, see if they have hours of operation posted on their website. They may also include when they're available to respond to calls or emails. Knowing this information is critical to choosing a good Arabic tutor.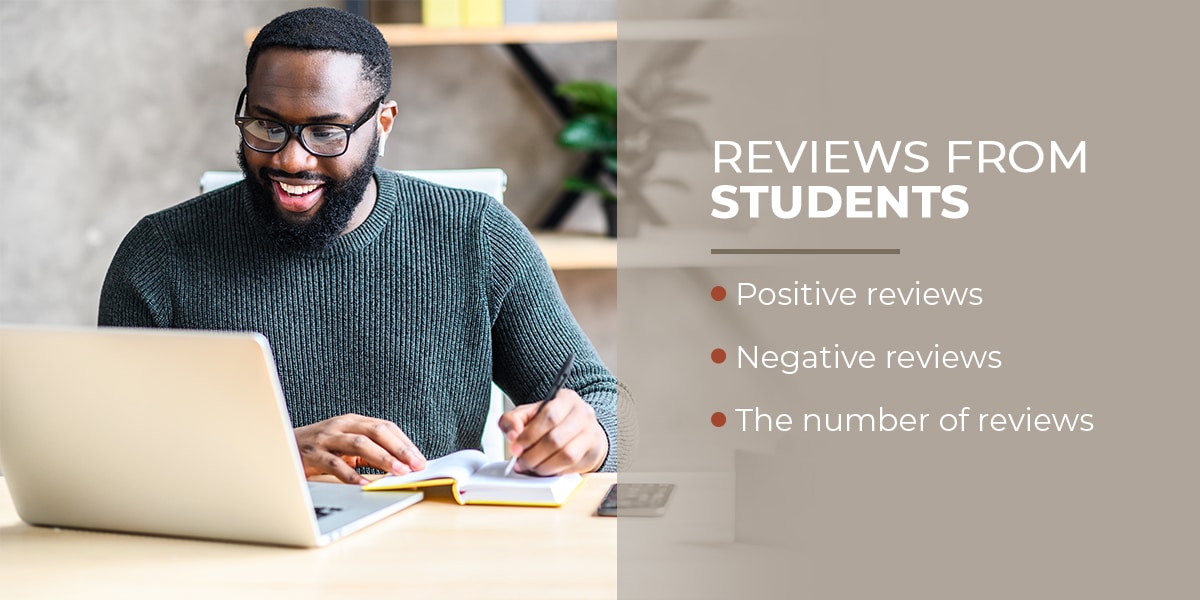 3. Reviews From Students
One of the best ways to learn more about a tutor is by reading reviews from previous students and parents. Reviews include the raw opinions and reactions of the tutor's previous clients. But, you also need to approach reviews with a bit of caution. Here are three things to look for:
Positive reviews: When a student or parent of a student feels that the learning experience was fantastic, they will have a desire to leave a positive review for the tutor. These reviews are great for discovering the tutor's strongest qualities.
Negative reviews: Most of the time, people only leave negative reviews if their experience was truly unfortunate. Keep in mind that people can be quite emotional when leaving a negative review, and sometimes their words can be harsher than the tutor deserves. Negative reviews can be helpful for learning about a tutor's weaker qualities.
The number of reviews: The number of reviews can sometimes be more important than a positive overall rating. For instance, a tutor with one 5-star review may be a riskier choice than a tutor with hundreds of 4-star reviews. More reviews will give you a more accurate picture of the tutor and show you that they've had a lot of experience and clients.
Reviews only tell part of the story. You'll discover reviews that fall somewhere between the best and the worst. These may be a bit more realistic and nuanced in their description of their experience, which can help you get a better understanding of the tutor. By reading many reviews, you'll know if the tutor is worth pursuing or if it's time to continue your search elsewhere.
4. Affordability
Once you've done a majority of your research, you may have a small list of Arabic tutors who seem to be good options. But there's one final element to your search that often has a strong say in how you make your choice — the cost of their tutoring sessions.
You only have so much room in your budget for Arabic tutoring lessons. The key is to find the best option available in your price range. And if the ideal tutor for you is only a bit more expensive than you can afford, then it may be a good idea to try to make a sacrifice somewhere else in your budget so you can afford it.
You also need to make sure you can afford your tutoring classes as time goes by. Learning Arabic can take a while, and you want to make sure you can afford all the classes you need before you sign up. Check how much the tutor charges per hour and compare that with your budget to make sure you can pay for your lessons.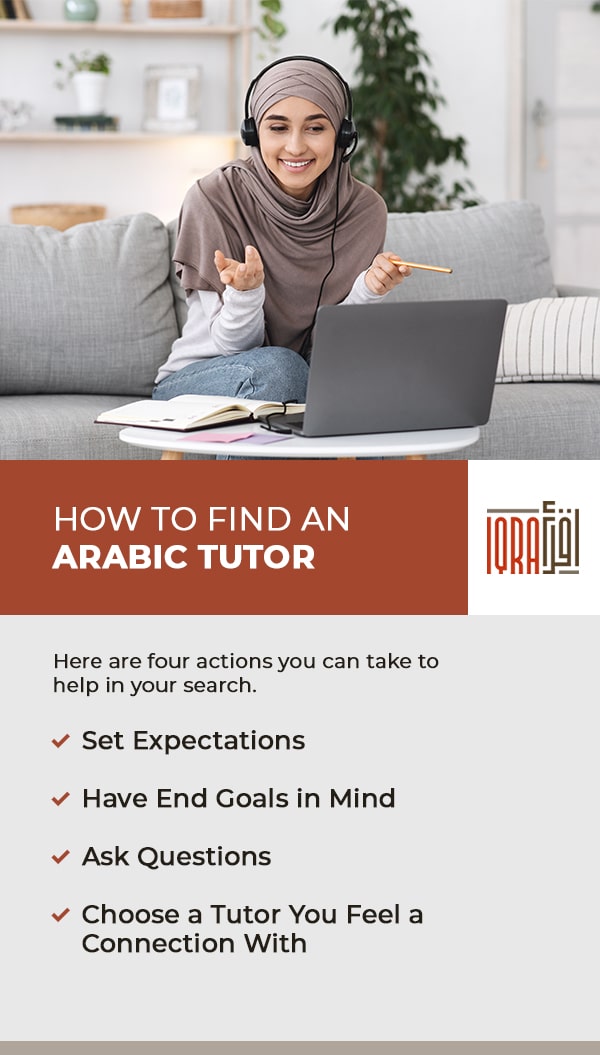 How to Find an Arabic Tutor
Now that you know more about what a good Arabic tutor looks like, you need to know how to find the one that's right for you. Here are four actions you can take to help in your search.
1. Set Expectations
Manage your expectations and use them as a guiding compass on your search for an Arabic tutor. At the end of the day, you want a tutor who can help you reach your goals. By setting your expectations, you can ensure you're hiring the best tutor for your needs.
For instance, a student should set different expectations based on their level of understanding. Someone learning simple Arabic grammar could benefit from a less experienced tutor than a person looking to sharpen their advanced skills in Arabic at the college level.
Set your expectations as high as they need to be. Look over various tutors' educational backgrounds and experience levels. Compare their price points and read their reviews. If a tutor meets your expectations, you can feel good about hiring them to teach you Arabic.
It's also important to avoid settling and lowering your expectations. Above, we mentioned that paying a little extra for a better tutor could be worth the increased quality of the education. Ensure you find a tutor who will give you the best value possible for your education.
2. Have End Goals in Mind
Having an end goal will ensure you're making the right decisions now, including the Arabic tutor you choose. Ask yourself some of the following questions to better help you visualize your end goals:
Why do I want an Arabic tutor?
What exactly do I hope to learn from a tutor?
When do I need a tutor's services?
When do I want to start seeing results?
Perhaps you want to learn Arabic to advance your career. Maybe you want to sharpen your Arabic skills so you can have a richer, deeper understanding of the Quran. Maybe you want to communicate better with the people in your community. Whatever your reasons, your tutor must be able to help you reach those goals. And they must be able to help you at times that work for you and your schedule.
3. Ask Questions
Make sure you're ready and willing to ask questions to potential tutors. It could be hard to find the answers to some of your questions online. Reviews only contain a sliver of information, and the tutor's own website may leave a few gaps in their information. It would be wise to only choose a tutor after all your questions have been answered. So now is the time to ask these questions.
Search for your tutor's contact information. Then you can call or email them with your specific questions. The answers to these questions will help you understand if the tutor is the right one for you or your child. Plus, it gives you a chance to test the tutor's responsiveness, which, as you read above, is an important characteristic to look for.
If you can't find relevant information on your tutor's website, consider asking questions like:
What tutoring or teaching experience do you have?
What teaching approaches do you take?
Would we work with a specific resource or a variety of resources? How do I access them?
How long and how often are your lessons?
If the potential tutor cannot answer those queries, you may wonder how they'll be able to answer your specific questions as you begin learning Arabic. Having your questions answered during the research stage can help you make a confident decision regarding who you choose as your Arabic tutor.
4. Choose a Tutor You Feel a Connection With
A strong personal connection is one of the keys to success when taking Arabic tutoring lessons. You want a tutor with charisma who can turn otherwise dry material into an engaging lesson. You want your tutor to remember you and adapt to your learning behavior and pacing. Without these attributes — without this connection — it could be hard to advance your understanding of Arabic.
It can be difficult to know whether you'll have a connection with a tutor until after your sessions have started. But you can take a few measures to see if there's a chance of forming a connection with a tutor. By asking questions and corresponding with them, you can get a feel for their personality and how they react to various situations.
As a parent, you want to find a tutor that connects with your children. Some children may be hesitant about starting Arabic tutoring lessons online. But finding a tutor who connects with your child and makes them want to continue learning is a true benefit. Consider joining your child's tutoring session to see how the tutor interacts with your child. You can also ask your child to describe how they feel about the tutor and their lessons to see if your child feels a connection with their tutor.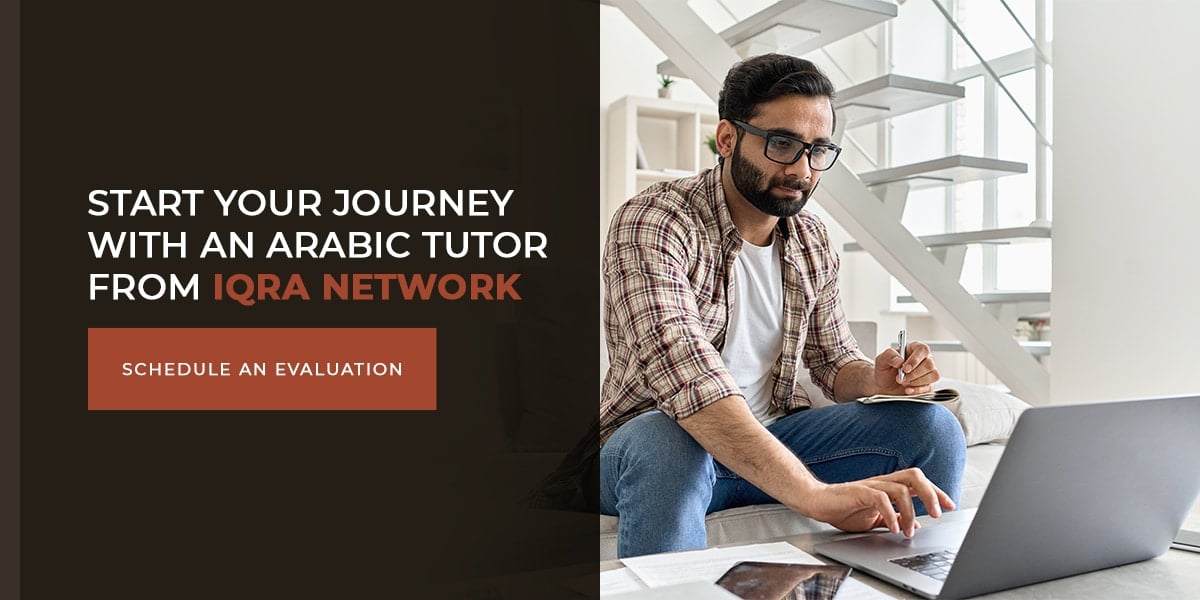 Start Your Journey With an Arabic Tutor From IQRA Network
IQRA Network is ready to give you the best Arabic tutoring experience possible. Our teachers are highly trained, ensuring you receive an excellent education. We invite you to browse our full list of courses online, which includes our comprehensive Arabic tutoring course called "My Beautiful Language Comprehensive."
We are ready to help you reach your Arabic language goals. Contact us today for more information or schedule an evaluation online.